The Latest Greatest, 1/23/11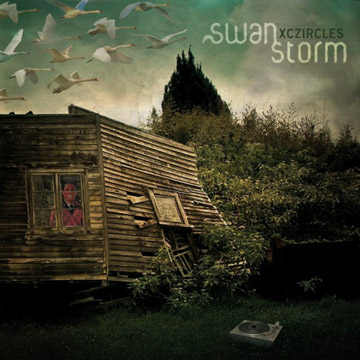 New double CD by Xczircles and Aamir, both of the West coast underground group Escape Artists. Entitled "Swan Storm" and "The Quiet After the Storm" respectively, these albums are packaged together and will be released on Ooohh! That's Heavy Records on March 1rst. Though I haven't really followed their releases, the Escape Artists have been putting it down for a while now and are a well-respected group in Southern Cali's massive underground circuit. Xczircles has done a fair share of solid production work for LA heads, including an excellent instrumental album "The Purge" which went almost entrely unnoticed due to record label difficulties. In case this info doesn't interest you though, these two upcoming albums boast a jaw-dropping guest list of West coast talent: Aceyalone, Myka 9, Awol One, Eligh, Scarub, Bigg Jus, 2Mex, Ellay Khule (on a couple spots!), Riddlore?, Gel Roc, Mike Ladd, K-the-I???, and the list goes on... That pretty much guarantees these albums at least a listen in my book! Tracklisting and sample songs below:
Disc 1: Xczircles - Swan Storm
1. Edge Of My Bed
2. Just A Ride
3. Ate Up (feat. Rifleman (Ellay Khule))
4. Obstacles
5. Toy Video (feat. Mike Ladd)
6. World Round
7. Onni (feat. Wormhole)
8. Sleepeasy
9. Correspondence (feat. Ahmuse / Thesis Sahib)
10. The Product
11. Sketch Artist
12. Heavy Handed
13. City Of Lights (feat. 2Mex / Aamir / Bigg Jus / Geneva B / K-The-I???)
14. We Burn The Same
15. Dementia
16. Golden Dream
Disc 2: Aamir - Quiet After the Storm
1. The Birth
2. The Difference (feat. Flux / Generous)
3. Contaminated Energy
4. The Owl And The Crow (feat. Eligh)
5. Reflection
6. Broken Window (feat. Aceyalone / Gel Roc)
7. Stuck In A Maze
8. The Quiet After The Storm (feat. Flux / Generous / Scarub)
9. Sands Of Time (feat. Ceschi / Cognition / Rifleman (Ellay Khule) / Flux / Gel Roc / Generous / Ivan Ives / Jizzm / Maylay Sage / R)
10. No Destination
11. Together Forever
12. Love Goddess (feat. Myka 9 (Mikah 9))
13. Feel The Sun (feat. Bahati / Natalie)
14. Opposite (feat. Awol One / Xczircles)
15. Oh So Blue
16. The Laughter Within
Xczircles "City of Lights"
Aamir "The Quiet After the Storm"